Open The Doors To Advent 2023
Get ready to unlock the doors to Advent 2023, a celebration of our 11th Anniversary that promises to triple the decadence and triple the chocolate! Prepare to be transported into a world of pure chocolate delight, where the symphony of the most exquisite chocolates from around the globe awaits your discovery.
Imagine a magical ballet of lights, effortlessly activated with the touch of a button, serenading you with the most enchanting tunes. Each door, adorned with lavish chocolates, sparkles in perfect harmony with the mesmerizing "Chocolate Around the World," casting a radiant, otherworldly glow across the façade of the Calendar of Advent Chocolate Shoppe.
But that's not all! This year, we have a delightful surprise in store for you. In celebration of our 11th anniversary, we've added a 24 chamber overflowing with handpicked delights, specially curated for a joyous Christmas celebration. Get ready to elevate your December days into moments of pure abundance with our exclusive, once-in-a-lifetime chocolate advent calendar.
Join us in making this festive season the most memorable one yet, as we celebrate a quarter-century of sharing happiness and chocolatey goodness with you!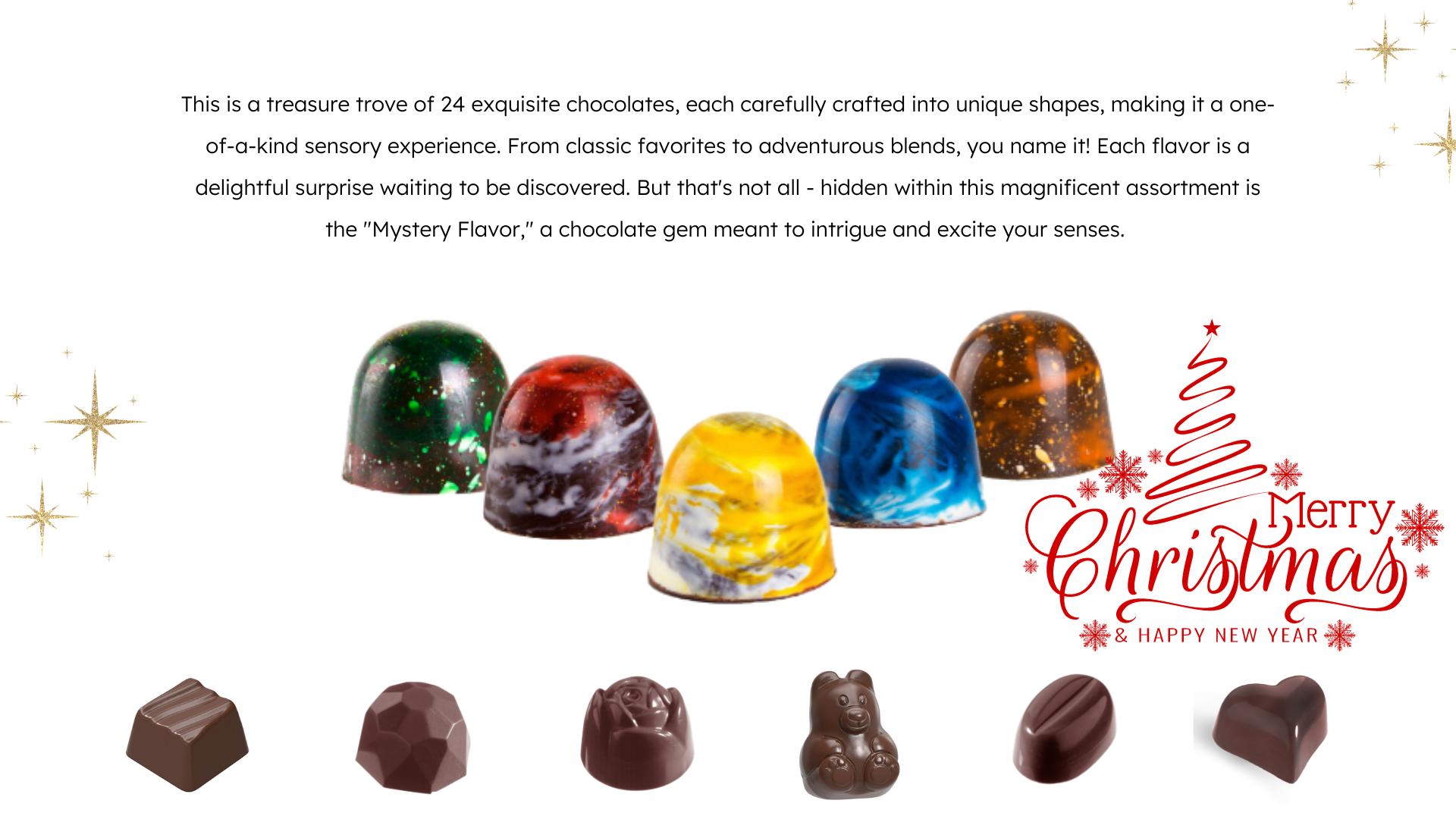 Let's rejoice in 11 years of Advent Magic!

The 2023 Christmas Advent Calendar Box is a treasure trove of delights that will not only tantalize your taste buds but also fill your heart with sheer delight. This year's collection box is a true masterpiece, enchanting you with its astonishing masterpiece design, a special curated 24 countries chocolate flavours, and a captivating 2D design that will bring boundless joy to every chilly celebration day.




Every day is a suprise discovery!


Every day is a journey of pure decadence! From delightful gingerbread toffees to adorable chocolaty mini gnomes, and even enchanting magical mushrooms, our haut-chocolat gems are meticulously crafted to nestle within their dedicated alcoves, just waiting for you to savor the joy. And don't forget the limited edition truffles that will add an extra sprinkle of happiness to each day!






Pre-order is open today! Enjoy special price for the all pre-order.
For corporate order, you can enjoy special corporate rate and personalize chocolate gift box. Speak to our chocolate angel at whatsapp +6019-880 7268 or email us at corporate@love18.cafe today.