Cappuccino dark chocolate
Sale price

RM 18.00

Regular price

RM 45.00
Share
THE DESCRIPTION
The classic pair of love - the sensual cappuccino blend with our rich and well-bodied Belgian dark chocolate gets you in the love-spiked mood. This is your kind of chocolate to start the day off right and for the night of seduction with just a bite!
Taste profile: Semi-sweet dark chocolates with a strong coffee aroma.
-10°C or below
14 days in chiller (Our chocolates do not contain preservatives, please consume as soon as possible)
20 pcs (150g)
Ingredients: Couverture chocolate (cocoa mass, cocoa butter, sugar, soy lecithin (as emulsifier), natural vanilla flavour), cappuccino coffee emulco.

All ingredients used to make this chocolate are Halal Certified.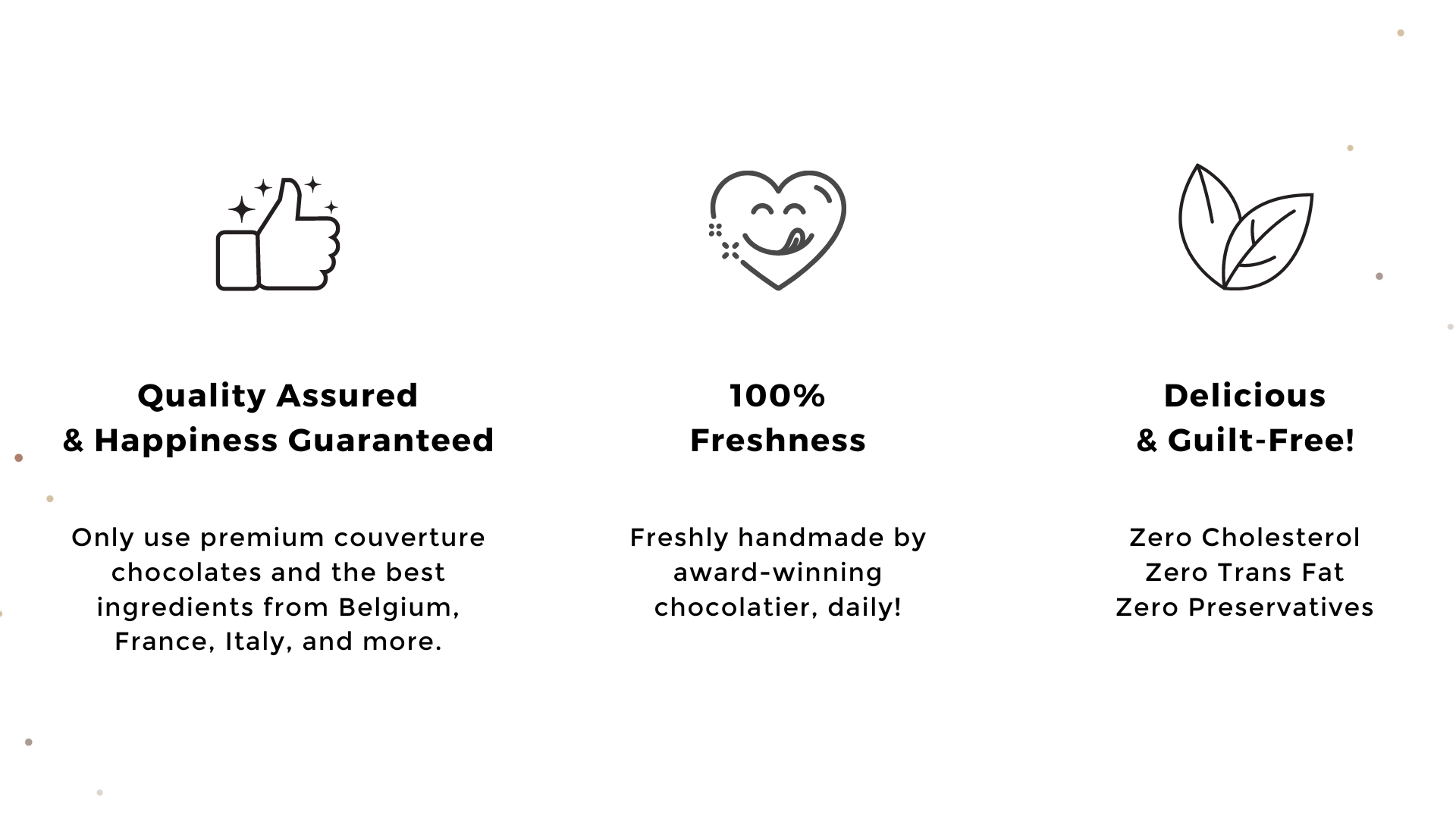 THE INSPIRATION
Cappuccino-infused dark chocolates are more than just a sweet treat. They're a symbol of self-motivation, reminding us to pursue our passions and dreams no matter what obstacles we face.
This chocolate creation is inspired by the bold, rich flavors of cappuccino and the indomitable spirit of the people who enjoy it. People who relish the taste of this bold, invigorating coffee drink are the same people who are constantly seeking new challenges and pushing themselves to be the best they can be. They're not content to simply coast through life - they want to make a real difference, to leave a lasting impact.
With every bite of our cappuccino-infused dark chocolate, you'll be reminded of that spirit of determination and drive. The deep, rich flavors of the coffee will linger on your tongue, encouraging you to embrace new adventures and take on new challenges. Whether you're starting a new project at work, setting out on a new path in life, or simply looking for a little extra motivation to keep pushing forward, these chocolates will be your constant companion.
So go ahead and indulge in this delicious, self-motivating treat. Take a bite and let the flavors of cappuccino remind you of what you're capable of. With every piece, you'll be reminded that there's nothing you can't do if you put your heart and soul into it