Hazelnut milk chocolate
Sale price

RM 18.00

Regular price

RM 45.00
Share
This hazelnut milk chocolate is generously blended with Pure hazelnut paste from Italy that gives you a nutty and caramelized goodness in every bite. It is exceptionally creamy and has a melt-in-mouth texture that delivers a unique chocolate experience offering a distinctly smooth, milky, and rich, gourmet taste.
Taste profile: Semi-sweet milk chocolates with a strong hazelnut taste.
-10°C or below
14 days in chiller (Our chocolates do not contain preservatives, please consume as soon as possible)
20 pcs (150g)
Ingredients: Couverture chocolate (cocoa mass, cocoa butter, sugar, soy lecithin (as emulsifier), natural vanilla flavour). Italy imported hazelnut paste

All ingredients used to make this chocolate are Halal Certified.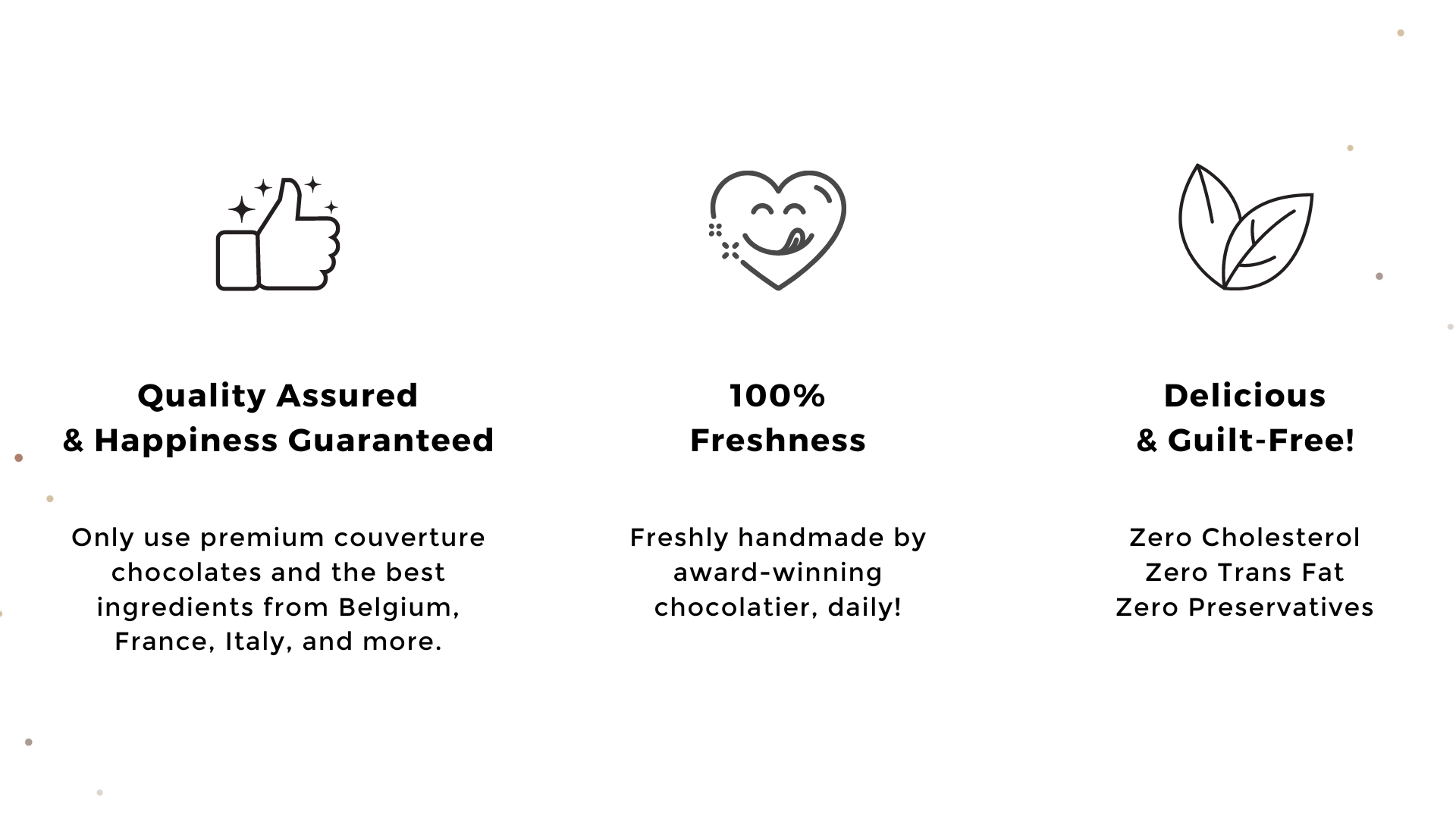 THE INSPIRATION
"Indulge in the Joyous Experience of Hazelnut Milk Chocolates"
Meet our Hazelnut Milk Chocolates, the perfect combination of creamy hazelnut and rich milk chocolate. These chocolates were inspired by the stories of happiness and joy, reminding us of the simple things in life that bring a smile to our faces.
Imagine a warm, cozy day, with a cup of hot cocoa in hand, surrounded by the ones you love. That's the feeling our Hazelnut Milk Chocolates aim to evoke. With each bite, the smooth and velvety texture of hazelnut and milk chocolate melts in your mouth, leaving a sweet and nutty aftertaste.
These chocolates are made from premium quality ingredients and carefully crafted to bring you the most authentic and delicious experience. Whether you're looking to treat yourself or to share with someone special, these chocolates are the perfect choice.
So, why not bring a touch of happiness and joy into your life, with our Hazelnut Milk Chocolates? They're a simple and delicious reminder to stop and appreciate the things that bring us happiness. Indulge in the joyous experience today!